Mark your calendars for our Spring 2017 concert featuring Brahms's Ein deutsches Requiem happening on May 13th and 14th.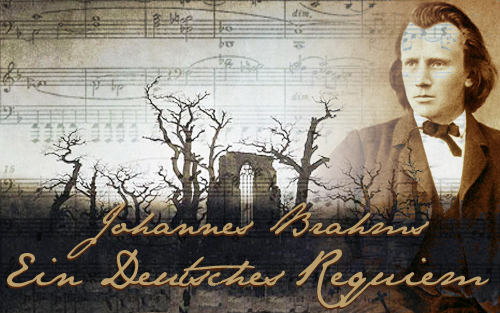 The Contra Costa Chorale, with guest director John Kendall Bailey, presents Ein Deutsches Requiem by Johannes Brahms, one of the greatest masterworks in all of choral literature. The four-hand piano accompaniment, arranged by Leonard Van Camp for the 100th anniversary of the Requiem, is based on the original Brahms manuscript in the Library of Congress, which was premiered in London on July 18, 1871. Joining the Chorale are soloists Rita Lilly, soprano and Sepp Hammer, baritone, with Cara Bradbury and Skye Atman on piano.
Saturday, May 13 at 8:00 PM
Unitarian Universalist Church, 1 Lawson Road, Kensington, CA 94707; (directions)
Sunday, May 14 at 5:00 PM
Hillside Covenant Church, 2060 Magnolia Way, Walnut Creek, CA 94707 (directions)
$20 General, $15 Students/Seniors/Disabled. Children under 12 – free admission.
Purchase tickets online here.
---

 Announcing our Spring 2017 concert guest conductor, John Kendall Bailey.
Due to Music Director Cindy Beitmen's recent diagnosis with colorectal cancer and her need to focus on her treatment, the Contra Costa Chorale is pleased to welcome John Kendall Bailey as guest conductor for the spring 2017 concert of Brahms's Ein Deutsches Requiem. We are grateful that he could make time in his own busy schedule to guide us through this season. We hope you will enjoy learning more about John, and that you will put our concert dates of May 13 and 14 on your calendar so that we can share this glorious masterwork with you.
---
The Chorale's year-long 50th Anniversary celebration has drawn to a close following two glorious concerts, a successful wine soiree, and a CD recording of the Spring Gala 50th Anniversary Concert.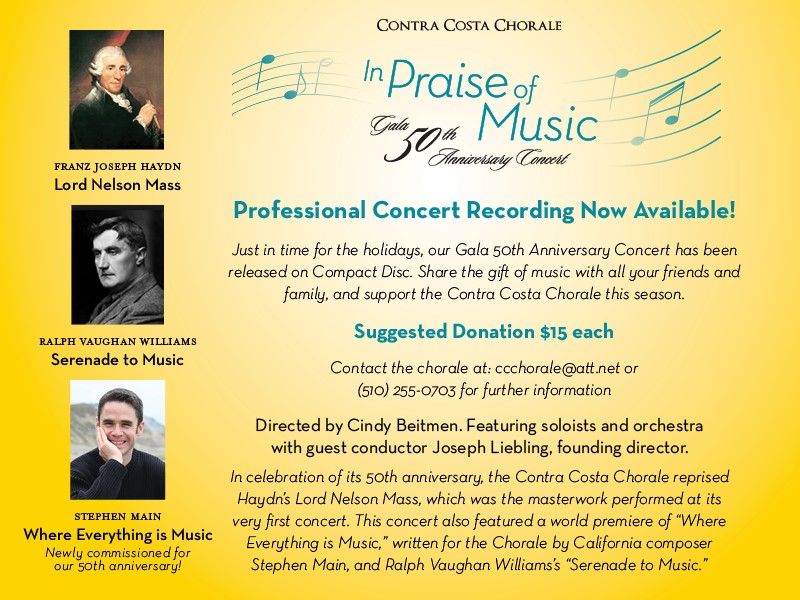 For any donation to CC Chorale of $15 or more, we will send you a CD copy of our Gala 50th Anniversary Concert as a thank you gift!