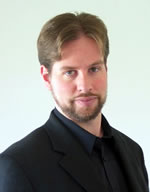 Due to Music Director Cindy Beitmen's recent diagnosis with colorectal cancer and her need to focus on her treatment, the Contra Costa Chorale is pleased to welcome John Kendall Bailey as guest conductor for the spring 2017 concert of Brahms's Ein Deutsches Requiem. We are grateful that he could make time in his own busy schedule to guide us through this season.
John comes to us from the Trinity Lyric Opera where he serves as Music Director, Principal Conductor and Chorus Master. His numerous other projects include being Associate Conductor of the San Francisco Composers Chamber Orchestra, Music Director and Conductor of Voices of Musica Sacra, and Artistic Director of the San Francisco Song Festival.
In 1994, Mr. Bailey founded the Berkeley Lyric Opera and served as its Music Director and Conductor until 2001. Since then he has served as a guest conductor with the Oakland East Bay Symphony, Oakland Youth Orchestra, Oakland Ballet, UC Berkeley Chamber Chorus, and music director and conductor for productions with North Bay Opera, Mission City Opera, Goat Hall Productions, Solo Opera, the Crowden School and Dominican University. John is also a composer, and his works have been performed and commissioned in the Bay Area and abroad. Mr. Bailey maintains a busy performance schedule as a bass-baritone, oboist, and pianist. If all of this wasn't enough, John has been a pre-performance lecturer for the Oakland East Bay Symphony and the San Francisco Opera, a critic for the San Francisco Classical Voice, a writer of real-time commentary for the Concert Companion, and has taught conducting at the University of California at Davis and Notre Dame de Namur University.