WHY SHOULD I JOIN THE CHORALE?
Discover your vocal range and expand it.
Benefit from weekly vocal and singing lessons.
Hone and develop your performance experience.
Enjoy marvelous works of music with a variety of musical styles, genres and periods.
Become part of a vibrant and diverse community.
Build new energy and joy into your life!
HOW DO I JOIN?
If you are interested, please contact us at ccchorale@att.net or call (510)255-0703. Enrollment is currently closed, but let us know if you would like your name to be put on our waiting list.
WHERE DOES THE CHORUS PERFORM & HOW OFTEN?
We present concerts in the fall and spring in East Bay venues, traditionally singing two performances for each set. We rehearse on Monday evenings, 7-10pm, at Hillside Community Church, 1422 Navellier Street, El Cerrito. Occasionally, we have been asked to sing at various events in the area such as appearances in 2014 at the Home Front Festival and the California Alliance for Retired Americans, and in 2015 we sang at a Cal Baseball game and were chosen by the San Francisco Opera to sing the Star Spangled Banner at their "Opera at the Ball Park" simulcast at AT&T Park. In early 2016 we performed the Star Spangled Banner at the Harlem Globetrotter's appearance in Oakland. During December the singers also perform in smaller groups singing carols at Rossmoor, Mechanics Bank, Richmond Senior Ball, and other businesses and events. These appearances are great fundraisers and lots of fun! We are currently in discussions with West Contra Costa Unified School District to establish and financially support a partnership that will promote more choral singing in the district's schools.
WHAT IS THE COST?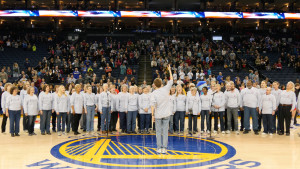 The member dues of $160 are the best bargain around for weekly vocal/singing lessons. Music Director Cindy Beitmen brings all of her vocal training and experience to the Chorale, and the lessons she provides create not only an excellent choral group but also a group of individuals who have developed their own personally strong vocal abilities through their participation in the Chorale.
An additional fee for the music is required for each set; this varies from set to set depending on the program. You have the option of paying monthly installments rather than the full amount up front, and arrangements can be made for anyone who is unable to afford the full dues.
---
Our Mission 
The Contra Costa Chorale is a nonprofit organization open to singers of various ages, backgrounds, and musical experience. The Chorale is committed to a high level of performance. It promotes the timeless tradition of choral singing as a community builder, providing open access to a diversity of singers and audiences alike. We focus on vocal and choral techniques, help members develop their musical skills, and strive to build a sense of community within its membership and with its audiences. The Chorale's repertoire includes sacred and secular music from the Renaissance through the 21st century encompassing a wide variety of styles both popular and traditional, with a strong emphasis on the performance of classical choral literature. We seek to bring this music to wide and diverse audiences in our original home community of Richmond and the other communities of West and Central Contra Costa County.
Our Vision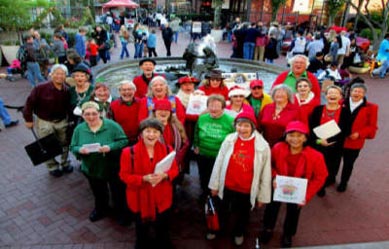 The Contra Costa Chorale will achieve the highest level of excellence in choral performance equal to or better than any non-auditioned community chorus in the San Francisco Bay Area.